Parcus moves to new administrative position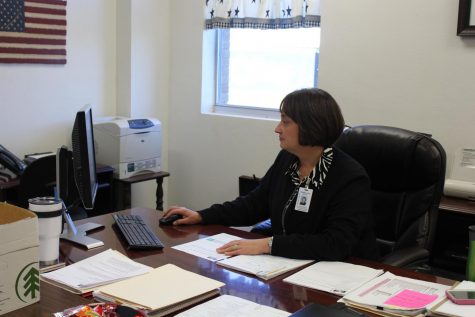 Mrs. Natalie Parcus worked as the principal of the elementary school for the past 11 years, until Dr. Steve Brownlee gave her the position of Executive Director of Administration. This position gives Mrs. Parcus the opportunity to work with administrative staff across the district. She also gets to help young adults have an experience that will change their lives.
" I now have the opportunity to work with all principals and directors across the district, which in turn, I hope I am helping to impacting all students K-12," said Mrs. Parcus.
While being the Executive Director, her title includes being the testing coordinator, heading up the Special Programs, and district grant writer. As a testing coordinator, she analyzes data  and works with the schools administration in understanding assessment data in order to generate effective responses to the students needs.
"Sometimes I don't get to be around the students as much as I'd like," said Mrs. Parcus.
Mrs. Parcus found it somewhat difficult transferring from the Lott Elementary to the High School. She had such a wonderful experience at the elementary which made it hard for her to leave. Even though she misses being at the elementary  she feels like she has more of an opportunity to find out what the students interest are because there are more extracurricular activities that they could be involved in.
"It was hard to leave the staff and students because of the great memories i had there but the middle school and high school staff has been more than welcoming," said Mrs. Parcus.
Mrs. Parcus wanted to go into education because she had always loved school and had great respect for her kindergarten teacher. This made her want to help kids have the same wonderful experience as she did. So when she decided to choose and educational career path, it was no surprise to her friends and family. Mrs. Parcus has one  kid, Sydney Parcus, she is 14 years old and is in the 9th grade.