Academic UIL Gears Up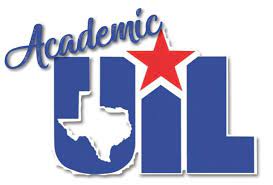 Academic UIL events are beginning practice for the district competition in March.
There are a variety of available spots open on several teams. Coaches hold practices at different times throughout the week and are available for extra help when requested. Students interested in an event should contact the coach in charge for more information.
Events and Coaches are:
Accounting – Mrs. Trubee
Calculator Applications – Mr. Henderson
Current Issues & Events – Mr. Woodworth
Debate & Student Congress – Mr. Woodworth
Literary Criticism – TBA
Copy Editing – Mrs. Tepe
Editorial Writing – Mrs. Tepe
Feature Writing – Mrs. Tepe
Headline Writing – Mrs. Tepe
News Writing – Mrs. Tepe
Mathematics – Mr. Henderson
Number Sense – Mr. Henderson
One Act Play – Mr. Woodworth
Poetry & Prose Interpretation – Mr. Woodworth
Ready Writing – Mrs. Tepe
Social Studies – Mr. Wright
Science – Mr. Allen
Speaking: Informative  & Persuasive – Mr. Woodworth
Spelling & Vocabulary – Ms. McCann
Theatrical Design – Mr. Woodworth
Film Contest – Mr. Woodworth