Cougars fall at area to Slocum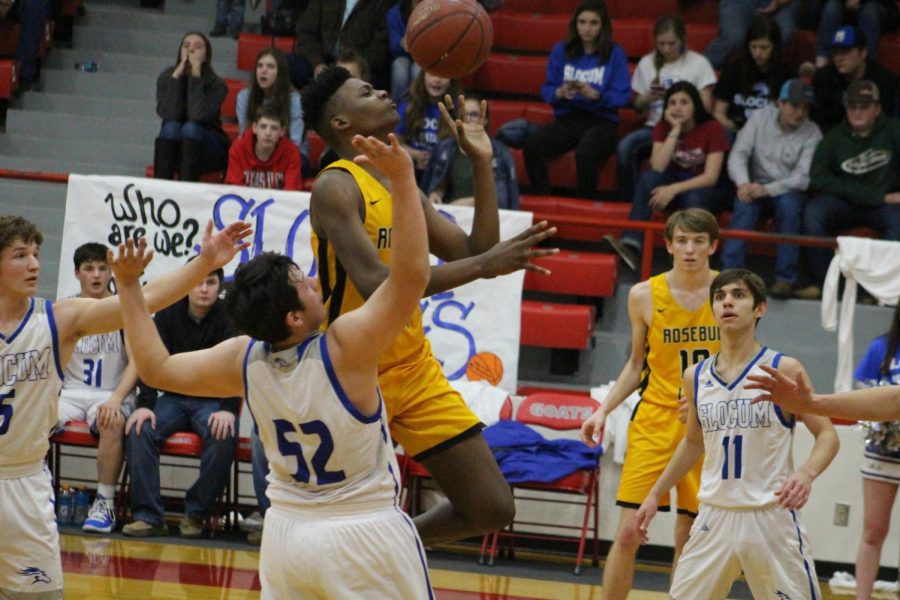 The RL Cougars fall in the area playoff to Slocum 63-37 last Monday night.
The Cougars started off slow, missing key baskets and allowing Slocum to land two three point shots before finally getting on the board with a shot from Brady Hering under the basket. Both teams played aggressively on both offense and defense, forcing turnovers on both side. Scoring remained low until Slocum opened up the score with a run of almost 10 unanswered points before the first time out was called by the Cougars. Cougars trailed at the end of the first period 17-6.
Slocum then took control of the game, outscoring the Cougars 3-to-1 in the field. Aggressive defense by the Mustangs forced several turnovers that resulted in scores, taking the game to a 20 point lead over the Cougars. Well placed scores by Haven Mortimer, Steven Buhl and Brady Hering couldn't bring the score closer by the half. Slocum lead going in to the locker room, 30-16.
The second half began with the Cougars trying to bring the score closer, but a stronger mustang defense held the Cougars' scoring to a minimal. Slocum came on strong, forcing Cougar turnovers that resulted in Mustang scores. A strong offensive effort from the Mustangs improved the score to over a 20 point lead before well placed baskets by Mortimer and Hering brought the score closer towards the end of the game. With a hard fought effort, the Cougars were unable to come back from the deficit and lost 63-37.
Leading scorers for the game were Mortimer, Buhl and Hering. Leading rebounder was Reyna.
The Cougars ended their season with honors at the district and state level. Hering, Mortimer and Reyna were all chosen for 1st team all-district.  Ty Stock and Landrum were chosen to 2nd team all-district. Buhl was selected as the 6th Man of the Year. Stock, Hering, Mortimer and Nick Bravo were selected Academic aa-district.